People don't do business with companies. They do business with people they like, brand they like, brands they want to interact with. Human beings are relational and so they are in the business of seeking people to work with. Our relationships are based on trust and mutual connection. You are a brand whether consciously aware of it or not. You will attract people that value your brand. You will transact business with people that are attracted to your brand hence the need to consciously craft a personal brand.
What is Personal Branding?
I want to ask you one question, and I want you to think about it for a few moment. What do you want to be known for? If someone mentions your name or business, what do you want them to say? Whatever comes in your mind, that's your brand.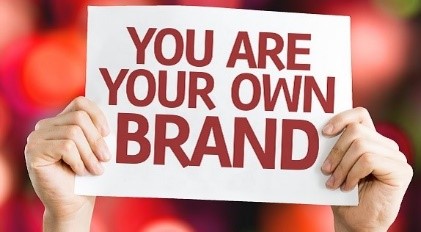 Personal Branding is a process, and this process involves finding your uniqueness, building a reputation on the things you want to be known for, and then allowing yourself to be known for them. It is the unique combination of skills, experience, and personality that you want the world to see you. It is the telling of your story, and how it reflects your conduct, behaviour, spoken and unspoken words, and attitudes.
Developing your Personal Brand
1.     Who are you?
The first thing in developing your personal brand is by figuring out who you are. Your brand should reflect your personal and professional identity and you cannot do this without doing an introspection. Know your strengths and your weaknesses. You can ask yourself some of these questions to help you;
·         What do I like doing
·         Which responsibilities do I naturally take
·         Which projects can I spend time on without feeling overwhelmed
·         Which activities seem to drain my energy
·         What do my friends say about the various roles that I undertake
·         How do I enjoy spending my time
If you're struggling to answer these questions, ask the people in your circle how they would describe you. Once you're more aware of the different facets of your personality, you can decide how best to brand them.
2.    What do you want to be known for?
When people mention your name, what do you want to come in their mind? What do you want to dedicate your life to? If you had a talk show audience of a million people, what would you tell them? What do you want to be remembered for? Your personal brand is more than a reflection of who you are today; it's a roadmap of where you to go. So craft it.
3.    Define your audience
Too many people are unfocused when it comes to their brand. They are trying to be everything to everyone. You need to decide your key message and direct it to the key people. Keeping your message focused for your target audience will make it easier to both create content around your personal brand and have others define you. It may take you some time to get to know the type of audience that will be interested in your brand. This, however, is essential to attract the kind of people you can help and who in turn will help you.
4.    Identify the communication Channels to use
You need to build your offline and online assets. Assets are the tools you own that will communicate your brand to your target audience. Assets are things like your website, your blog, your Twitter username and your LinkedIn profile, for example. Offline assets are things like business cards and traditional brochures you send. How do you want to communicate with your target audience? With so many different social media tools available today, your online presence will likely look different depending on the medium you choose. While your story should match across all platforms, once you know where your targeted audience is most likely to turn, you can redouble your efforts in telling your best story there.
5.    Craft Your message
As you begin to conceptualize your personal brand, spend some time crafting an elevator pitch, a story about who you are. Whether you're attending a networking event or a party, having an elevator pitch prepared makes it easy to describe concisely what you do and where you're going (or would like to go) in your career. Besides, what's your "vibe"? Which are these words that will never miss in your communication both online and offline?  Be articulate in all your communication channels.
6.    Be Consistent
"You have to demonstrate consistency across your communication, gravitas, and appearance. Don't underestimate how tiny inconsistencies can derail personal brand effectiveness." Fyiona Yong, director and millennial leadership coach (ICF ACC). An important reason to create consistent brand is building awareness. Your target audience are significantly more likely to purchase from a brand they recognize for their consistent image and content schedule, so make sure to maintain both with some regularity. The more often your audience see your advertisements and branding, the consistent and memorable your brand will appear.
In conclusion, a personal brand is a lifelong project that constantly evolves and changes. Even the experts who build or enhance the biggest brands in the business know that there are no hard-set rules for creating a personal brand. But these general guidelines help provide first steps, especially if you're starting a new brand or rebranding.
Read more...